From the financial services world to operational auditing to… sales enablement and demand generation? It might not seem like the most natural career progression, but three years into my career at AK Operations, it's never made more sense.
My COVID Beginnings
In March of 2020, I was burnt out on traveling for work for three weeks at a time when a friend mentioned that one of her friends, Amy, was hiring for the company she had founded. If nothing else, I should have a conversation with her. My background wasn't in sales & marketing, but I knew I wanted a change so I took the call—and I'm so glad I did.
Amy promised she could teach me the technical side of her program, but she couldn't teach the hustle and as long as I was willing to bet on myself, I'd be successful. I was hooked. Just a few days before the world shut down, I decided to take the leap to join Amy as her third hire at AK Ops.
A very typical collaboration for Amy and I :)
On my first day I helped Amy unload the diapers she spent the morning staking out at Target right at open. She went from unloading the trunk and walking me through the steps of the AK program to answering a math question from her daughter and hopping on a client call. Then she went back to onboarding me while sipping on a quadruple shot latte with five pumps of sugar and all I could think was, "I've never seen a human consume more caffeine."
Now I've come to realize, it's not the caffeine. Amy just never runs out of energy!
From where we sat on my first day at Amy's kitchen counter to having a fully built out office with 11 other women who have joined us along the way, the journey is still surreal. I promise this won't be an "uphill both ways in the snow" story, but you can't recognize how far you've come without taking a second to pause on where you started.
The Early Days
I started my career running the internship program for a financial services company. At the age of 22, I was responsible for not only the recruitment of our interns but also their onboarding and professional development throughout their entire time in the program.
From there I moved to an $87 billion manufacturing company to operationally audit their plants around the country. Processes mattered. I was successful because I could improve and refine the processes that were implemented before me.
Then I came to AK Ops. Thriving off of Starbucks runs and Jay's Sweet Onion Vidalia chips, I learned so much in my first year. I became a student of Amy's process and took every opportunity I could to learn more and more about what our program could achieve for our clients.
But I was also initially met with the wild, wild west. We booked a new meeting for a client, but 43 Slacks accidentally came through to notify the team? No big deal, the other gals were already focused on a new strategy they could use to book the next one. Amy, Mallory, and Shelby were three cowboys running at an impressive speed and my operational brain saw a gold mine of opportunity.
An early days qualifiers trips to the Lake of the Ozarks.
I knew there had to be a better way we could operate, and after some frustration, a few tears, and more iterations of documentation than I can count, I put AK Ops' first Standard Operating Procedures in place. The types of SOPs that my corporate brain took for granted I was able to spearhead for a team that had added three more hires. Two years later, those same SOPs continue to be iterated on and perfected as our team grows and each Sharp Chick brings their unique perspective.
Stronger Together
2022 brought me stepping into leadership as our Chief Strategy Officer along with Andy as our CFO/CBO and Mallory as our Director of Client Success. 2022 also brought our team of 11 women (and Andy!) three maternity leaves. Mallory and Krista would be leaving in April and a few short months later, I'd be taking time in July.
Inevitably making adjustments to cover clients while the new moms were home enjoying their newborns, I had never been so grateful for our SOPs. We were able to seamlessly transfer clients between each Success Manager. In the midst of maternity leaves, the summer of 2022 was our highest summer of meetings booked to date. HubSpot environments were clean, processes were streamlined, and we spent our time together executing strategy, not worrying about operational gaps.
I'm forever grateful to Amy for taking a chance on me back in 2020.
Questioning the "why" behind things isn't as welcome when you're one of hundreds of employees at a company, but Amy always saw it as an innovative streak. She let me challenge her and we've sat through hours of collaboration until we came up with better solutions. In just three short years, I've gone from feeling stagnant in my career to being the Chief Strategy Officer serving an incredible group of women and a mission I'm excited about.
And in the midst of it all? I became a wife and mom too. Three years and three titles I'm so proud of.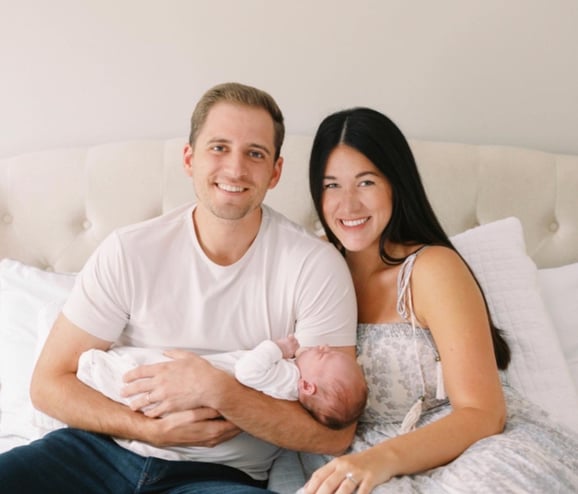 My little family of three.
It All Comes Full Circle
To the cowboys that ran with the foundation of the AK Ops program, you all created the most badass program to be able to operationalize. To the Sharp Chicks that are yet to come, I can't wait to see how we continue to grow it.
Reading this while you're stuck in your own career plateau? Don't be afraid to take the chance and bet on yourself. And if you're reading this in the middle of operationalizing your team's rogue processes? Grab some Starbucks, Sweet Onion Vidalia chips, and keep going. I promise it's worth it.